USED HEAVY EQUIPMENT · CONSTRUCTION MACHINERY
FROM JAPAN TO THE WORLD
WE ASSIST YOU, STEP BY STEP, IN CHOOSING, BUYING, AND DELIVERING IT WHEREVER YOU ARE.
3.000+

MACHINES
ON OUR WEBSITE

1.000+

HAPPY
CUSTOMERS IN 2020

800

UNITS
AUCTIONED EVERYDAY
Benefits of buying from the Japanese domestic market
Big choice

The ease with which you can find spare parts for the Japanese machines, internationally.

Respectful attitude

Japanese people follow accurately, faithfully, and precisely the instructions of how to use a certain machine, which makes used machinery always in good condition and reliable even with the passing of years.

High quality

Japanese machinery are famous to be of high quality, durable in time, and 100% liable to give you the best experience and performance at work..
We will guide you throughout your journey with us :
1

Choose the model

2

Agree on options

3

Check shipping fees and schedule

4

Sign a contract

5

Issue an invoice

6

Send payment

7

Arrange shipping

8

Receive your machine
Why Estec?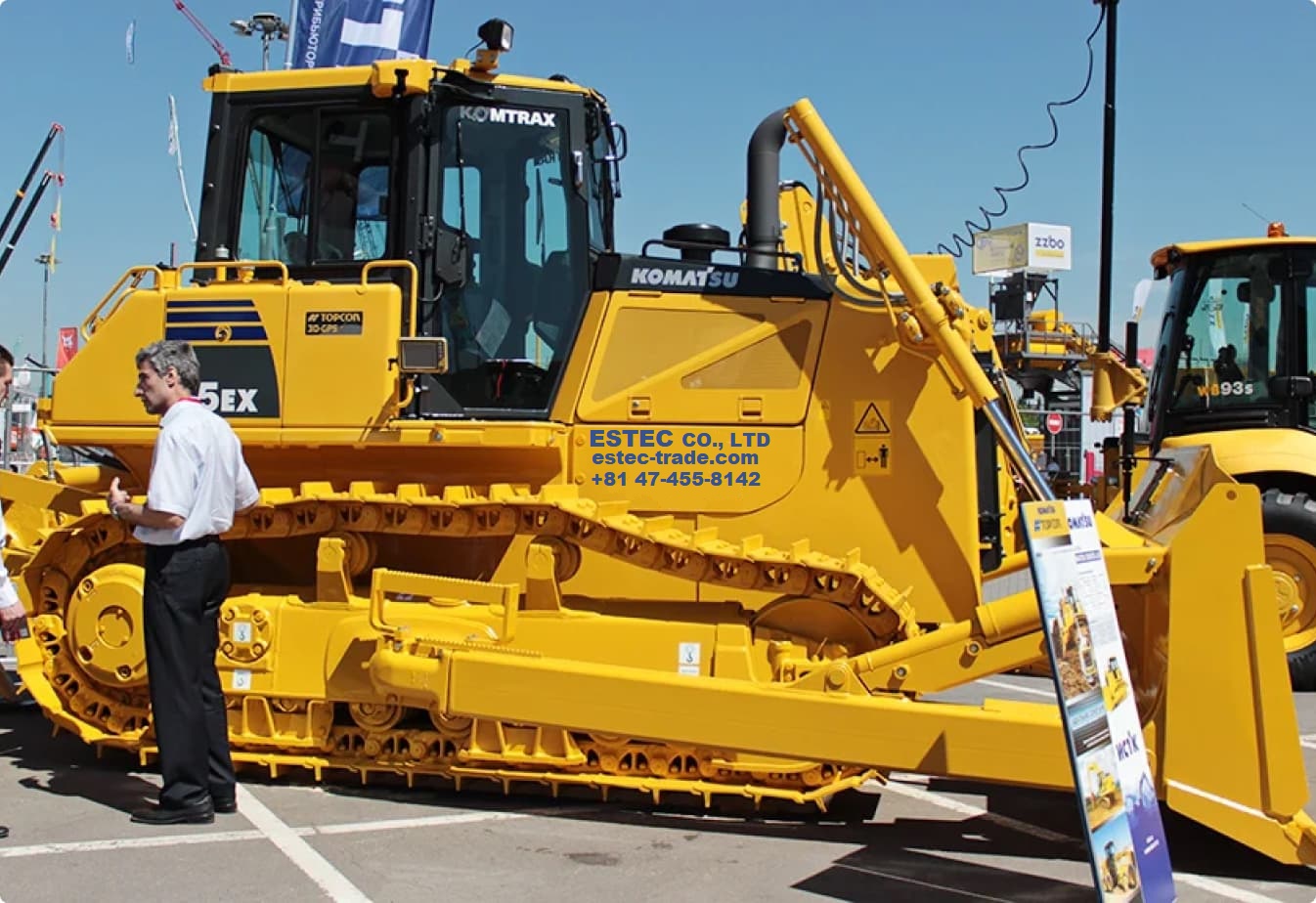 1

By using our website you will be up to date with the ongoing, as well as the upcoming auctions' latest news from all over Japan.

2

For more than 16 years we have made connections with Japanese owners, based on trust and respect, and from whom we can obtain almost every kind of machinery.

3

Multilingual support

4

We made the payment process easy, fast, and secure.

5

ESTEC is on a continuous journey to make delivery fast and cheap either by RORO or by Containers.
LEAVE A REQUEST
For Selection
WE HELP TO CHOOSE, BUY AND SUPPLY HEAVY
EQUIPMENT AND CONSTRUCTION EQUIPMENT
FROM THE JAPANESE MARKET.
Your request has been sent
One of our team will contact you shortly
OUR TEAM
Sergey Eroshenko

Chief Executive Officer

Head of the company since its foundation in 2005. Married and has 2 twin boys. Pets: favorite labrador and a marine aquarium with fish and other animals. Hobbies: cycling, surfing, modeling.

Vladimir Pogrebnoi

Chief Operating Manager

Experience in the auto sales business since 2008. After moving to Japan, my first job was until 2016 at a shipping company in Toyama. Then I came to Estec. I love cats and video games. Hobbies: humor, football, barbecue.

Begzod Mansurov

Senior Manager (Machinery Department)

Begzod is the engine of our machinery sales department. Operator of work with suppliers. Favorite food: kebab and Uzbek pilaf. Hobbies: computers, parties with compatriots.

Yukari Nakagawa

Logistics department

Yukari has been with the company since 2017. She loves motorcycles so much that she bought a Kawasaki, but still does not have a driver's license. Likes to eat strawberries from hometown Tochigi. Has 2 cats. Fan of Hollywood films.

Mohamed Majdi

Sales manager (Machinery Department)

Mohamed from Tunisia. He knows several languages: English, French, Arabic, Spanish, Italian. He can answer to any questions about machinery. Hobbies: movies, TV shows, anime, UFC,MMA,James Bond moves.

Alexey Farafonov

Director of Niigata Branch

Specialist in car repair and painting with a diploma. He loves his garage more than his house. He is married, has a son and a little toy poodle. Hobbies: snowboarding, street racing, swimming.
ABOUT US
Need
a machine?
Start your journey with us by sending a message or calling our staff
FAQ
Want to know more
About the world of Japanese machine